Welcome to my Holiday Home Tour. I have to admit, I kept things simple this year. Actually, I don't get too carried away any year. I'm just too busy to decorate every little nook and cranny in our home. So I stick to our main living areas. But of course it really all starts at the front door!
I used a lot of greenery this year. You can get a super inexpensive 20ft roll of greenery at Costco. I love to decorate for the holidays with natural elements. So along with the  greenery, I went with lots of pinecones and boxwood. And besides purchasing the fresh greenery, I used everything I had at home. I didn't purchase any new decorations this year.
I found those super big pinecones at a nearby park last year. After I chased out the resident spiders, they were of course just calling for glitter!
I found the fresh boxwood wreaths at Trader Joe's this season. I bought a bunch of them not really knowing where I would put them but I knew I could fit them in someplace. I know I said I didn't buy anything new, but I don't think fresh greenery counts. You kind of have to buy it every year. Although these boxwoods are drying out and they may make it for quite awhile after Christmas.
It's amazing what happens when you plop a tree in a vintage sap bucket.
The tour continues into the house, where I really continued the theme. I think that is the key to really great decorating. When you walk into a home and everything just fits together, it's usually because the whole home is thematic. That doesn't mean each room is the same, it just means that some of the same elements have been carried out throughout the home. For example, I continued the fresh greenery and music sheet garlands onto the banister in our entry.
This music sheet banner was super easy and fast to make by the way. I just cut out strips (you can cut out a bunch of sheets at once) folded them in half and hot glued them on a piece of twine. I probably made 30 feet in about an hour.
Ok, let's get real about Christmas trees. Do you have one tree for the traditional family ornaments and one that you get to decorate that is your pretty tree? I usually do too. But this year after the traditional tree was decorated, I talked myself out of getting another tree. I had to ask myself if the added stress of decorating another tree was worth it this year. You know how you plug in every strand of lights and each one works, but by the time you wrap them around the branches half a strand is burnt out? Doesn't that just put the Bah in Bah Hum Bug??? It just wasn't worth it this year.  So in this house, Darth Vader has to coexist with burlap and music sheet garland.
So instead of spending my time on my own pretty tree, I continued the theme into other areas of my house. Areas that are really easy to clean up when the season ends.
Like the wood in front of the fireplace gets spruced up with some pinecones.
And this year, most of the love went into the mantel! Isn't that really the focal point of Christmas decorating anyhow?
No I don't have 7 children! There is a stocking for the 4 of us plus Gramma and Papa are coming for a visit this year. And one for the dog too.
Guess what?  I didn't really add any thing new to my mantel for Christmas. I just added greenery and planted an amaryllis in the champagne bucket. And I traded out a jar of seashells with the jar of ornaments.
All those pretty vintage ornaments that didn't go on my pretty tree this year went into Ball jars.
I added a mercury glass christmas tree to my existing mercury glass candle stick collection. And layered it on a sheet of player piano music.  I also scattered these vintage watch faces. I think the stylists at Pottery Barn would be proud of me!
In my family room, I again added pinecones and vintage Christmas ornaments. I planted another Amaryllis bulb as well, Which by the way I think will be blooming next week, just in time for the big day.  I didn't plan that but I couldn't be more happy about it. It's the little things ,you know? Is that dust in my jar of ornaments? Keeping it real here folks!
Remember my Thanksgiving Center piece? If you missed it you can check it out here.  I just traded out the pumpkins for….you guessed it, pinecones!
Oh, and Paper Whites too. I am so excited for these to bloom. I love the fragrance!
 I have been saving my favorite decoration for last. I recently painted and distressed 2 doors that I found on the curb from a home remodel. I love how they turned out and I think they give an amazing pop of color to my otherwise neutral color palate.
Some German Glass Glitter letters and a boxwood wreath and as my youngest son would say "Buh Bam!"  These doors are definitely not going away after Christmas.
Thanks for stopping by my home for the Holidays. Hope you enjoyed and got some ideas and design inspiration for your own Holiday Home. I'd love to see your comments and don't forget to subscribe so all the great design inspiration and tutorials you are seeing here come straight to your inbox.
I'm linking up!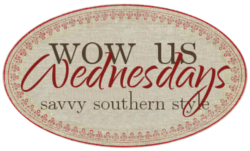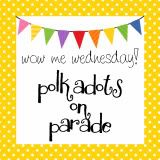 www.tatertosandjello.com